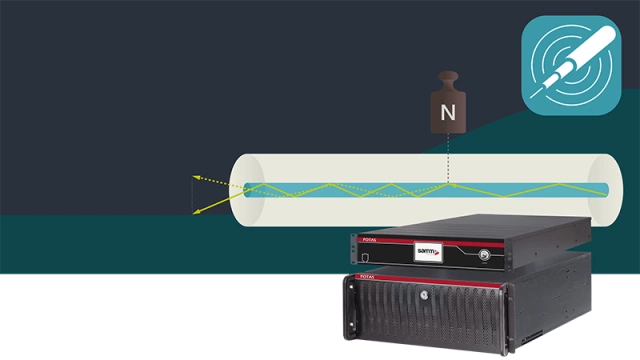 27 September 2021
Fiber Optic Distributed Acoustic Sensing
What is Fiber Optic Distributed Acoustic Sensing?
Fiber optic distributed acoustic sensing systems rely on using an optical fiber cable distributed over long distances. Using a fiber optic sensing cable, an interrogator can detect and measure any movement, vibration and sound that happens within the cable's sensing range. Distributed fiber optic sensing cables can make security systems more sensitive, discrete, and cover longer distances. Furthermore, fiber sensing surpasses common sensing systems that depend on electronic sensors installed at several points. Fiber optic sensing systems use the entire cable as a sensor that can detect changes at any point.

How does Fiber Optic Distributed Acoustic Sensing Work?
The inner core and cladding of the fiber reflect and refract the light signal countless times. Any microscopic movement that happens at any point causes the light reflections and refractions to change. These changes appear clearly when measured at the end of the line, using an interrogator. The interrogator uses digitized precise algorithms to determine the distance of the change in that happened to the signal. Thus, the system can point out the location of the event that caused the change of the signal along the line.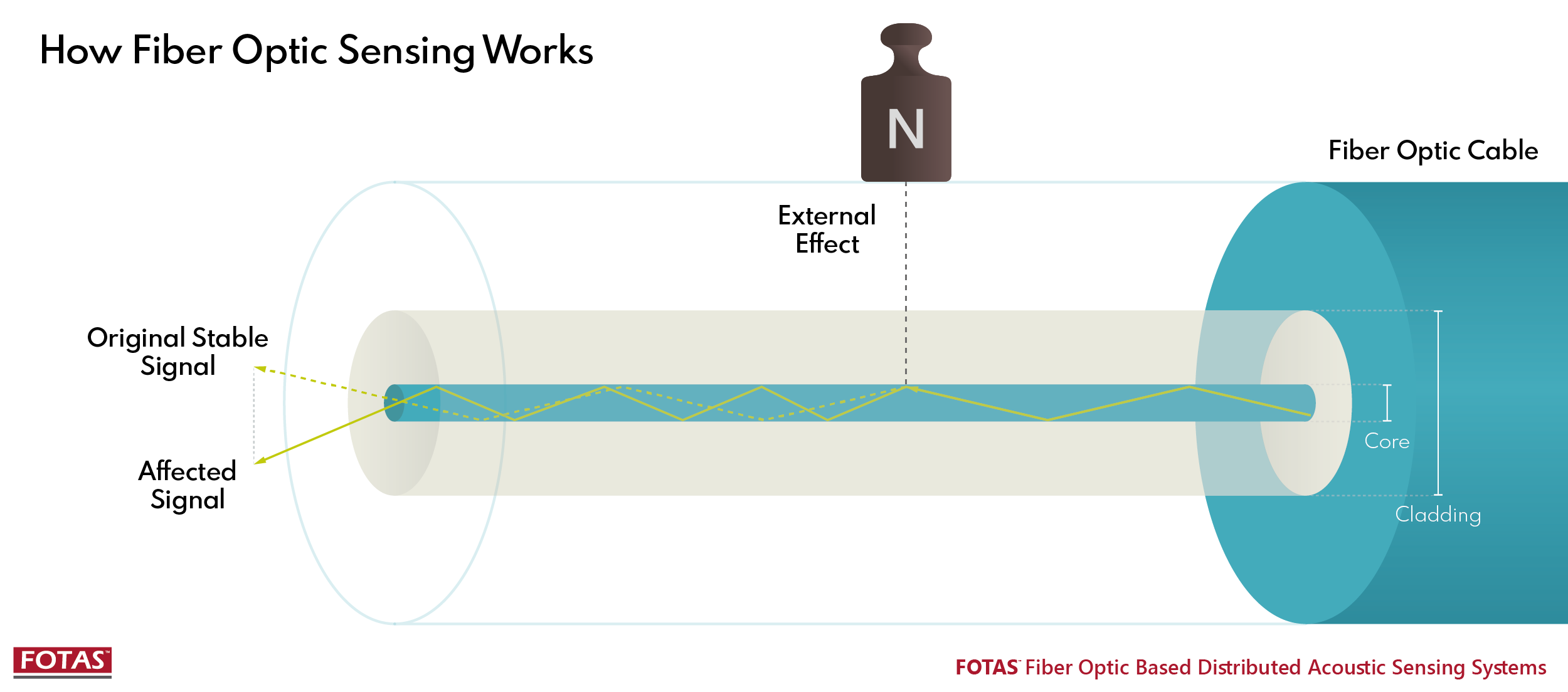 A laser light signal traveling through a fiber optic cable is similar to water traveling through a hose. If you hit a running water hose in the middle, the effect of the impact creates a small wave in the flow. The wave travels with the water and appears clearly at the end of the hose as the water flows out. Likewise, any physical interference with a fiber optic sensing cable causes a change in the signal. That change travels to the end of the fiber and can be detected and measured.
Applications of Fiber Optic Distributed Acoustic Sensing
Fiber optic distributed acoustic sensing is useful for various applications such as:
Seismic sensing
Border security
Perimeter security
Pipeline security
Industrial safety
Minerals mine safety
Hydropower plant safety
Transportation structures safety


Fiber cables can be also used to detect temperature changes but such systems are not related to acoustic sensing.
Benefits of Fiber Optic Distributed Acoustic Sensing
High Sensitivity
Light has unique physical properties that make it a highly sensitive sensor. Light signals traveling through fiber adhere to the microscopic physical changes of the fiber. Hence, the sensing signal alters with any slight change in the physical surroundings of the cable. For example, a distributed acoustic sensing fiber can detect large movements like an earthquake as well as vibrations from a person walking by the fiber line. What is more impressive is that a fiber sensing cable can detect the vibrations of sound waves in the air as they hit the fiber cable. Appropriately, a fiber optic sensing cable can detect and transfer the words of a person talking near cable at any point.
High Immunity
Using laser light signals instead of electricity makes fiber optic sensing cables immune to electromagnet interference or Radio Frequency Interference. In addition, optical sensing cables are usable in high voltage or lightning hazardous environments. They are dielectric and cannot cause an electrical shock. Furthermore, fiber cables can withstand harsh environments with altering temperatures and weather conditions that may affect different security equipment.
High Flexibility
Fiber cables used for sensing are relatively lightweight and very discrete, and flexible. Fiber sensing cables can be distributed for long distances of variant terrains and surfaces. On the other hand, a fiber optic sensing cable does not require electric devices along the line and it only need a light source from one end. Which means, a fiber cable does not require termination at both ends to be a sensing cable. Moreover, accessing an optical sensing cable from both ends can keep it active and usable for sensing, even if someone cuts the cable into two pieces.
FOTAS Distributed Acoustic Sensor
FOTAS is a security and detection system that uses distributed acoustic sensing for detection and security. Because of its easily supplied infrastructure, it works using already distributed fiber optic cables.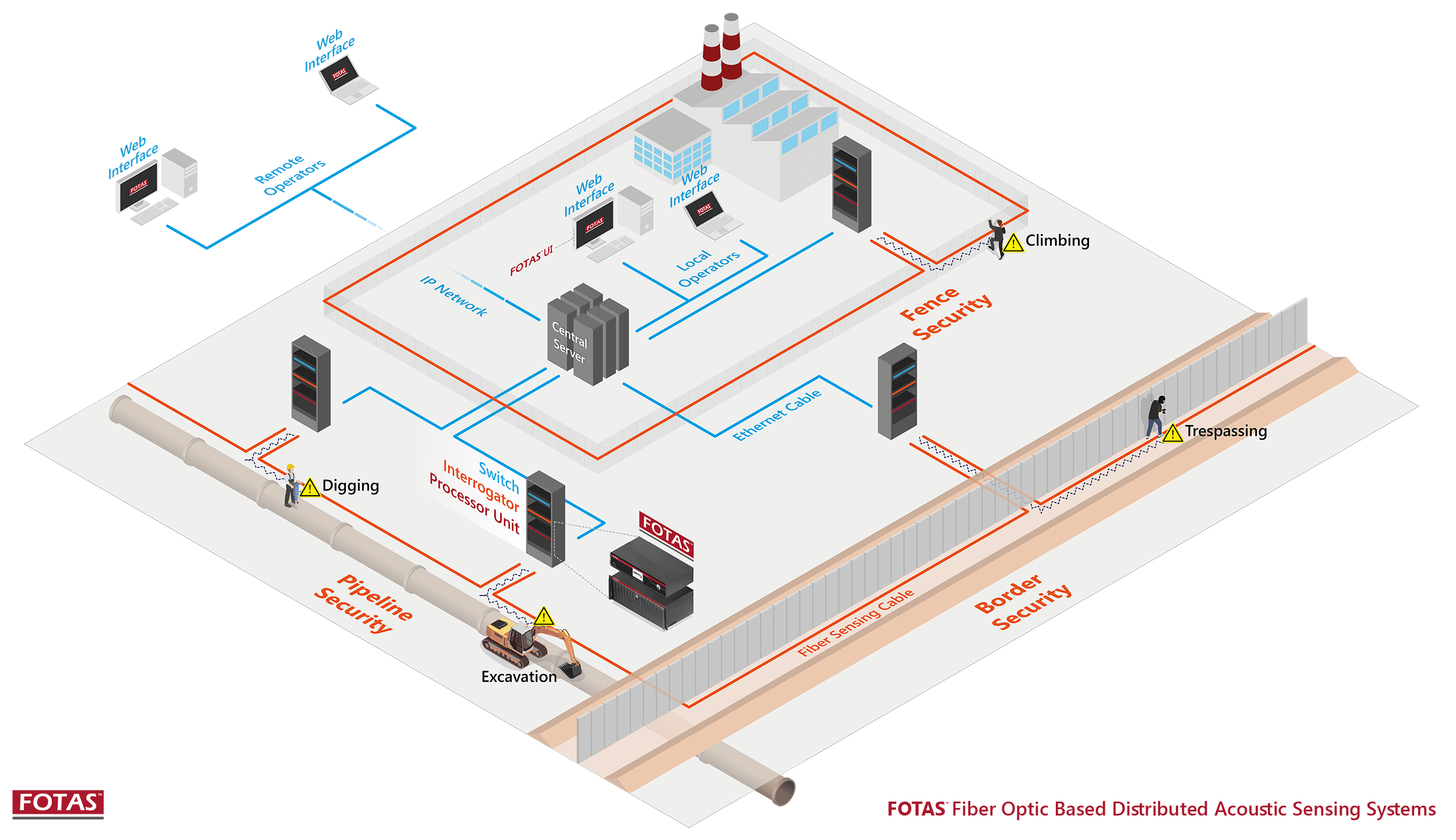 The FOTAS systems is suitable for detection of digging, excavations and trespassing. Besides, actions that create vibration, such as walking, can be monitored live on the system with 10 meters of precision. The system also uses neglected zones to avoid false alarms in constantly active spots. All received alarms are reported over the web interface and stored as exportable data. You can Click Hereto read more about FOTAS Distributed Acoustic Sensing System.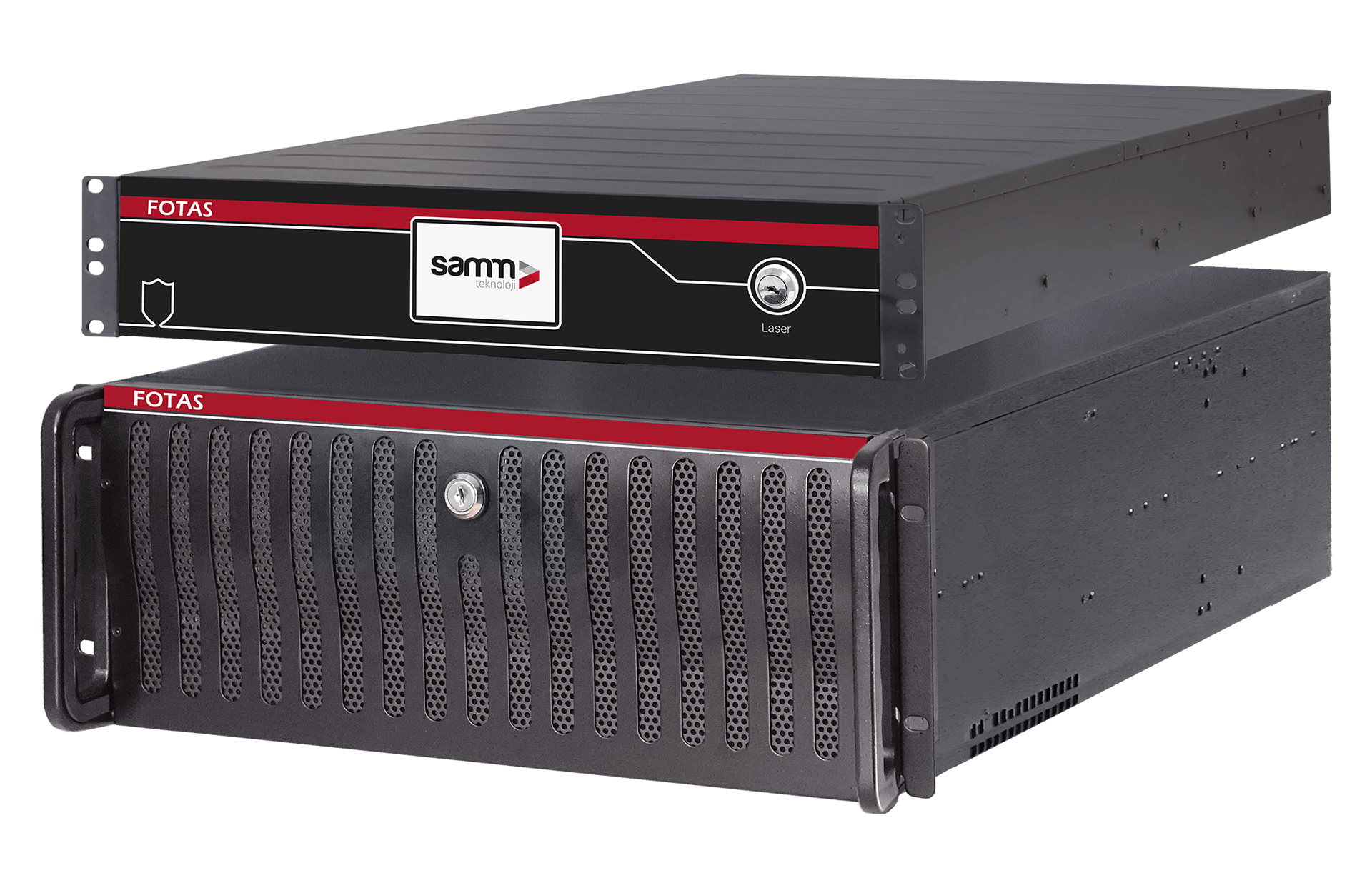 FOTAS Distributed Acoustic Sensor
About Samm Teknoloji
Fiber Optic Cable Manufacturer
Being a Turkish fiber optic cable manufacturer and an efficient supplier for Europe, Asia and America, SAMM Teknoloji joined the global market with very high potential. SAMM designs and manufactures a wide variety of fiber optic cable types optimized for fixed or mobile networks that can be used in indoor and outdoor environments. SAMM offers reliable, cost-effective optical products to meet the needs of customers with innovative products developed and tested in accordance with international standards.
Fiber Optic Assemblies Producer
As a fiber optic cable assemblies producer and supplier in Turkey and an optical assemblies supplier for Europe and Asia, Samm Teknoloji has been providing high-quality and reliable fiber optic cable assemblies since 2006. Due to our fully equipped production facilities, laboratories and long-term expertise in fiber optics, we are able to produce a first class fiber optic assemblies portfolio that ensure the highest level reliability. Therefore, one of the main priority is the ongoing expansion and advancement of the manufacturing capabilities.
Data Center Solutions Producer
As a Turkish producer of future-ready fiber optic data center equipment, SAMM Teknoloji produces UHD ultra high density MTP/MPO panels and cassettes, modular panels and cabling raceways. SAMM Teknoloji has also kept pace with the accelerating spread of Cloud Computing, which has increased the need for mega Data Centers. SAMM provides Data Center solutions and products that suit all structures with high data storage density, data traffic and data security.