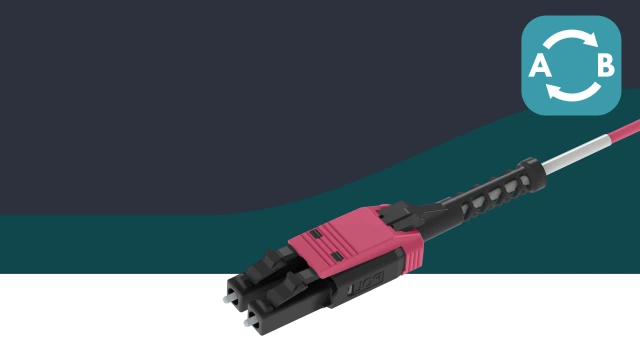 22 December 2021
Uniboot Patch Cords and Reversible Polarity
What is a Uniboot Patch Cord
A uniboot patch cord is a round duplex fiber cable with uniboot duplex LC connectors on both sides. Uniboot patch cords are the ultimate solutions for high density data center applications. They save half the cabling space and make reversing the polarity very easy. Uniboot patch cords, with uniboot lc duplex connectors can reverse polarity without the need to change the whole patch cord.

The Evolution of LC Connectors
Lucent Technologies designed the first version of LC connectors as a solution to make a connector smaller than SC in order to stack more connectors in 1U panels. This invention dramatically boosted the density of data center panels. Later, the necessity for bi-directional communications in fiber infrastructure necessitated the development of a new solution. Technicians needed asolutions for patching two LC connectors at the same time. This resulted in the adoption of duplex connectors, which feature two LC connectors in one housing. But duplex connectors still needed to have two separate or joined fiber cords. Nonetheless, increasing fiber panel density doubled the number of fiber cables connected to each panel, necessitating greater cable management. Uniboot LC connectors fixed this issue by unifying the connectors and fiber cords as well. Consequently, cable clutter became minimal, and patch panel cable management became considerably easier.
Reversible Polarity of Uniboot Connectors
When utilizing simplex LC connectors, reversing polarity on a patch panel is as simple as swapping the connectors' positions. Using regular LC duplex patch cables, on the other hand, made reversing the polarity impossible without replacing the entire patch cord with one with a different polarity. As a result, the uniboot LC connections were invented to finally solve the polarity reversal problem while also minimizing cable clutter.

The sophisticated reversible polarity mechanism inside the connector is what sets uniboot LC patch cords apart regular LC duplex patch cords. The spinning tips and retractable housing of the reversible uniboot connector allow the connector to mirror itself horizontally. This simple movement switches the polarity of the LC connector and the patch cord as a whole. The polarity reversal mechanism in smart uniboot patch cords is tool-less and contains a 180-degree safety limitation to protect the fiber from strain. In addition, the polarity is switched without exposing the fibers to the ambient environment, which might damage them.
Uniboot LC Patch Cord Products
About Samm Teknoloji
Fiber Optic Cable Manufacturer
Being a Turkish fiber optic cable manufacturer and an efficient supplier for Europe, Asia and America, SAMM Teknoloji joined the global market with very high potential. SAMM designs and manufactures a wide variety of fiber optic cable types optimized for fixed or mobile networks that can be used in indoor and outdoor environments. SAMM offers reliable, cost-effective optical products to meet the needs of customers with innovative products developed and tested in accordance with international standards.
Fiber Optic Assemblies Producer
As a fiber optic cable assemblies producer and supplier in Turkey and an optical assemblies supplier for Europe and Asia, Samm Teknoloji has been providing high-quality and reliable fiber optic cable assemblies since 2006. Due to our fully equipped production facilities, laboratories and long-term expertise in fiber optics, we are able to produce a first class fiber optic assemblies portfolio that ensure the highest level reliability. Therefore, one of the main priority is the ongoing expansion and advancement of the manufacturing capabilities.
Data Center Solutions Producer
As a Turkish producer of future-ready fiber optic data center equipment, SAMM Teknoloji produces UHD ultra high density MTP/MPO panels and cassettes, modular panels and cabling raceways. SAMM Teknoloji has also kept pace with the accelerating spread of Cloud Computing, which has increased the need for mega Data Centers. SAMM provides Data Center solutions and products that suit all structures with high data storage density, data traffic and data security.