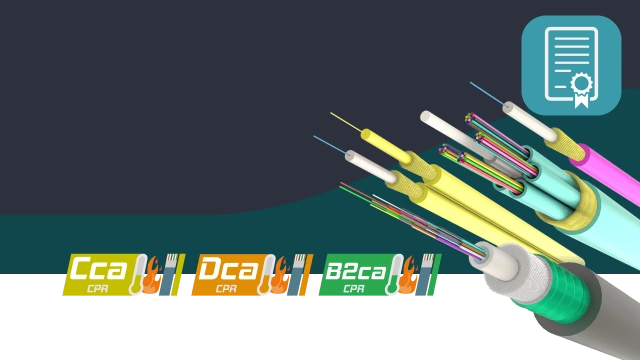 19 January 2021
What is CPR?
CPR is an acronym for Construction Products Regulation. It is a combination of standards and common technical language that offers a uniform performance and safety assessment system of construction products that are made by or imported to the European Union market.
When was CPR principles first applied?
The initial parts of the Construction Products Regulation were first applied on 24th April 2011. However, the CPR was first fully applied in the EU on 1st July 2013; since that time, all construction products placed on the European market were covered by harmonised product performance and safety standards. That meant that each product should pass a European Technical Assessment system, be accompanied by a Declaration of Performance (DoP) document and be CE marked and approved in order to be sold in the EU market.
How do CPR principles apply to cable production?
The CPR principles cover all construction products that are produced for building and civil engineering construction works or are incorporated with any product meant to be used in the same field. This means that cables that are intended to be permanently installed inside buildings must be constructed and tested in accordance with the CPR principles. However, these conditions do not apply to non-permanent cables or any cables intended to be installed outdoor applications, whether they are duct, aerial, or direct buried cables.
To what types of cables do CPR apply?
The CPR regulation applies to the following cables:
Power cables
Installation cables and wires
Control cables
Telecommunication cables
Data cables
What aspects of safety do the CPR regulation include?
The most important part of the regulation, as applied to cables, is safety requirements against burning and fire propagation. However, there are many other aspects in which a product must obtain high standards and test results in order to be accepted by the harmonized European standards on construction products.
According to the CPR regulation, the most important evaluation aspects are as follows:
Mechanical resistance and stability.
Safety in case of fire.
Hygiene, health and the environment.
Safety and accessibility in use.
Protection against noise.
Energy economy and heat retention.
Sustainable use of natural resources.
What are the safety classes of the CPR regulation?
The CPR construction products regulation includes seven new safety classes from A to F, where A represents a non-flammable product and F a product whose fire reaction properties cannot be determined. According to the new classification, cables usually belong to B, C, D and E class.
There are also additional criteria which determine the requirements of quantity of smoke emitted during combustion, falling droplets created during combustion, acidity of the smoke and electrolytic conductivity

The CE marking on the product shows that the product complies with all the requirements set out in the applicable directives.
Buying CPR Certified Cables
By choosing SAMM Teknoloji products, you can be sure that you get the cables that comply entirely with the requirements set out in the new construction products regulations. You can take a look at our Fiber Optic Cables page to see which cables are CPR certified.
About Samm Teknoloji
Fiber Optic Cable Manufacturer
Being a Turkish fiber optic cable manufacturer and an efficient supplier for Europe, Asia and America, SAMM Teknoloji joined the global market with very high potential. SAMM designs and manufactures a wide variety of fiber optic cable types optimized for fixed or mobile networks that can be used in indoor and outdoor environments. SAMM offers reliable, cost-effective optical products to meet the needs of customers with innovative products developed and tested in accordance with international standards.
Fiber Optic Assemblies Producer
As a fiber optic cable assemblies producer and supplier in Turkey and an optical assemblies supplier for Europe and Asia, Samm Teknoloji has been providing high-quality and reliable fiber optic cable assemblies since 2006. Due to our fully equipped production facilities, laboratories and long-term expertise in fiber optics, we are able to produce a first class fiber optic assemblies portfolio that ensure the highest level reliability. Therefore, one of the main priority is the ongoing expansion and advancement of the manufacturing capabilities.
Data Center Solutions Producer
As a Turkish producer of future-ready fiber optic data center equipment, SAMM Teknoloji produces UHD ultra high density MTP/MPO panels and cassettes, modular panels and cabling raceways. SAMM Teknoloji has also kept pace with the accelerating spread of Cloud Computing, which has increased the need for mega Data Centers. SAMM provides Data Center solutions and products that suit all structures with high data storage density, data traffic and data security.